← Older posts
Newer posts →
February 28, 2010
filed under:
Work on the La Figa: Visions of Food and Form project is continuing – we should have some news to report on publication of the book some time this spring. Meanwhile, Tiberio and I continue to shoot. We recently did two different shoots with two different pairs of women and two different small round fruits (grapes and cherry tomatoes). We are saving the final images for the book, but here are some fun behind the scenes shots of the process (it is a tough job, but somebody's got to do it)…
Click for larger images…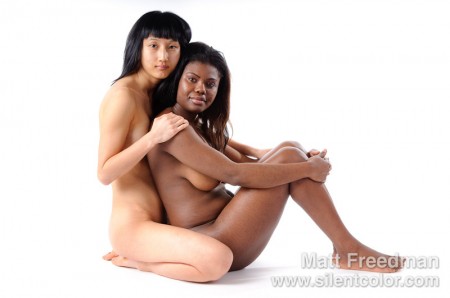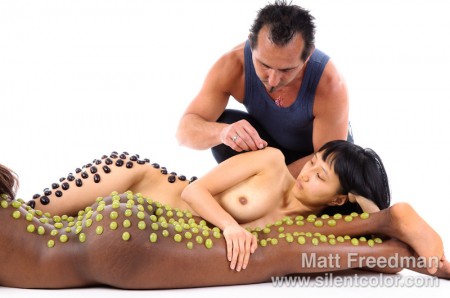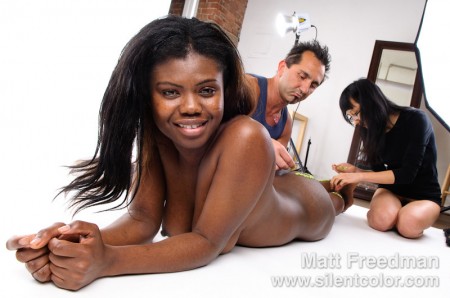 Leave a comment
July 10, 2009
filed under:
As mentioned a few posts ago, Tiberio – and his work on the La Figa Project –  stars in an upcoming documentary film about independent business people. The movie is called SHINE, and it is being produced by Dan McComb of Biznik. The director, Ben Medina of Kingmaker Mobile Group was generous enough to produce a two minute preview video of Tiberio's role in the film.
Without further ado, meet Tiberio…
(if you have trouble playing it on your computer, please get the latest version of the Adobe Flash Player)
4 Comments
June 6, 2009
filed under:
As mentioned in my recent post Painted Backdrops, we were recently in the studio/gallery of painter Jose Luis Rodriguez Guerra, so Tiberio could be filmed in action creating a couple La Figa pieces for an upcoming movie. The title of the film is SHINE – it is a documentary about independent business people, produced by Dan McComb (co-founder founder of Biznik), and directed by Seattle film-maker Ben Medina. Here are some "making of" shots from that day…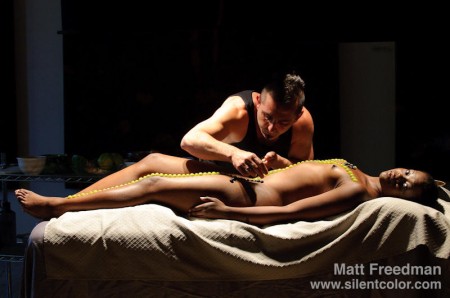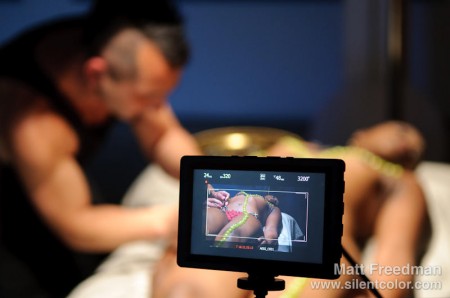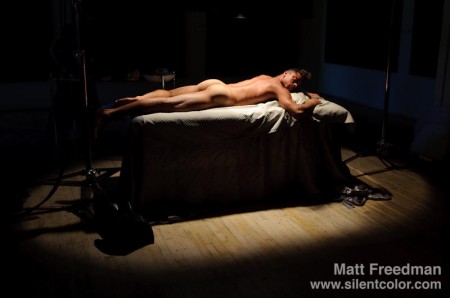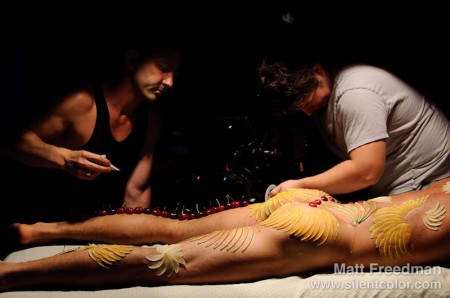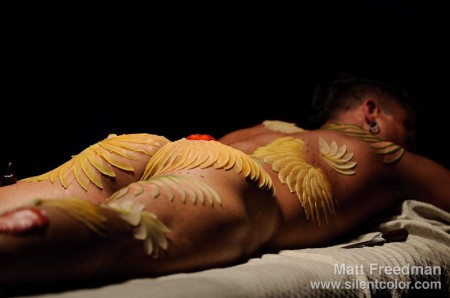 (Pop quiz for the photographers reading this – why is the background so blue in the third shot? How would you fix it in post-processing if it bothered you?)
Leave a comment
May 29, 2009
filed under:
Use of painted backdrops is quite standard in photography. I generally find them to be ok at best, and horrifically cheesy at worst. But it is not every day you get to use absolutely gorgeous painted backdrops that are each worth substantially more than your car.
Yesterday, Tiberio and I brought the La Figa live installation to the studio/gallery of Jose Luis Rodriguez Guerra – an  incredibly talented painter, originally from Mexico, but now living and working in Seattle's Pioneer Square. Tiberio is being featured in an upcoming documentary film, and we were there to get footage of him creating some La Figa pieces. Jose was kind enough to lend his space for the filming. More details about the movie (and of course still photos) will be coming in my next blog post, after I have had a chance to post-process the images.
While waiting for some extra video lighting to arrive, I did a spontaneous quick shoot with Reyna, one of our absolute favorite La Figa models. Regular readers (and anybody who was at the Seattle Erotic Art Festival this year) will undoubtedly recognize her. Jose generously allowed us to use his stunning canvases as the backdrop for these photographs.
Also note that Reyna is available for modeling gigs of all kinds. If you have a project that she would be suited for, and would like to get in touch with her about it, just drop me a line, and I will introduce you.
(Click for larger images)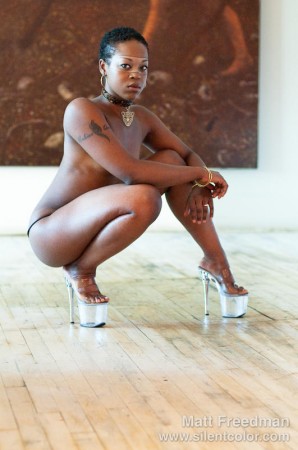 1 Comment
May 10, 2009
filed under:
Daniel Cardenas of NWLive.tv has posted the video of the La Figa installation that he shot at the Seattle Erotic Art Festival. You can watch it right here.
And also see this video about SEAF from www.seattleiam.com, which has some brief footage of Tiberio and the La Figa installation.
Leave a comment
May 7, 2009
filed under:
After all of these months of preparation, it is a bit hard to believe it is really over. But it is true, the 2009 Seattle Erotic Art Festival is now just a memory. The organizers did an absolutely incredible job – this was by far the best SEAF ever. The huge space at the Seattle Center really worked well, the art, performers, and DJ's were all top notch, and the midnight to 4AM after parties on Friday and Saturday rocked the house.
Our La Figa installation was also a smashing success – people really seemed to love it. We had eight large framed prints on our wall space, and Tiberio created new works of food and body art on over a dozen models over three nights.
I have posted three albums of images from the festival:
And here are a few favorites…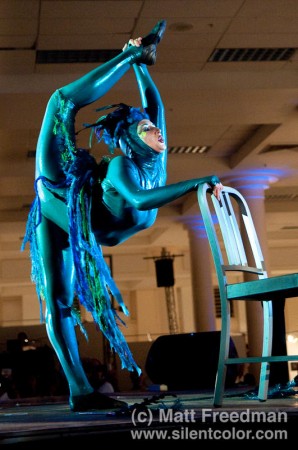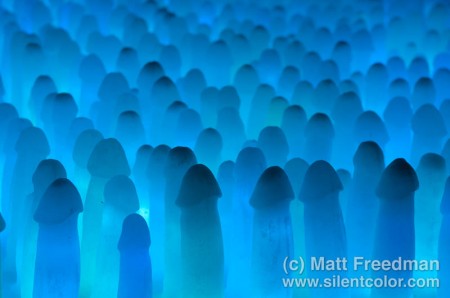 Leave a comment
April 13, 2009
filed under:
There was a great article about Tiberio and the La Figa project in the biggest newspaper in Tiberio's home region of Italy on Saturday. You can see the pdf of the newspaper's front page, and the story page, or read the web version,  or Google's (attempted) translation of the article into English.
1 Comment
April 6, 2009
filed under:
I just updated www.lafigaproject.com with all the details on our special installation at the 2009 Seattle Erotic Art Festival, as well as  some new photos, so check it out.
Here is our promo postcard for the event (postcard and logo  by Giannina Silverman, of RocketRanch Design). Click the images for larger versions…
Leave a comment
April 3, 2009
filed under:
Tiberio and I did a wonderful shoot last weekend with a model in her seventies. The concept was to create a citrus triptych – one good shot each of lemon, lime, and orange. Here are a few outtakes…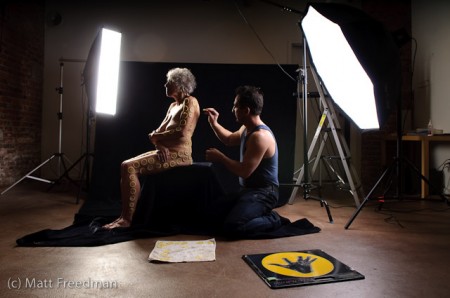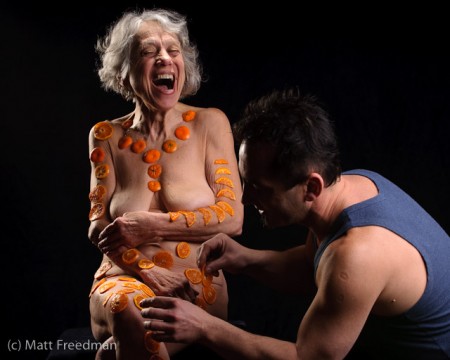 I can't decide whether or not to take out the earring in this last shot. I kind of like the way it echoes the rings of the lemons, but on the other hand, jewelry really doesn't belong. Thoughts?
1 Comment
February 19, 2009
filed under:
Tiberio and I did another La Figa shoot last weekend, this time with a much curvier model than we have shot to date, and the results were phenomenal. After a series of very high key shoots with the white seamless paper background, I felt drawn back to the black velvet backdrop. The black velvet gives a totally different effect than the black paper (which can be seen in our Strawberries Redux shoot). The black paper can be anywhere from medium gray to almost black, depending on what you do with the lighting. The black velvet on the other hand reflects almost no light at all, so as long as you don't light it directly, it pretty much disappears from the shot.
Here is one of the lighting set-ups I used. Note that the big softbox on the right is turned off – this is just a two light arrangement. A strip softbox coming in from the left, and a gridspot coming down from above and behind…
(click for larger versions)…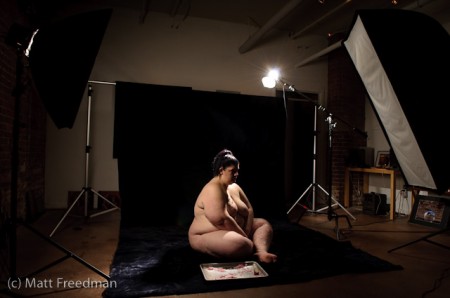 Here are a couple shots showing what I got with this set-up…
The first food arrangement we did involved melon…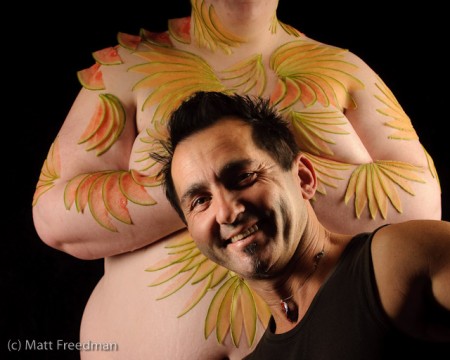 But the really good stuff we got involved radishes. The results were spectacular – expect to see one of our final images from this arrangement on the wall at the Seattle Erotic Art Festival…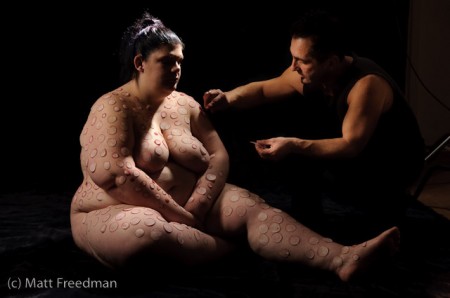 Our model brought along a friend who happens to be a talented photographer by the name of Jason Wolf, so we actually got some behind the scenes shots of me for a change…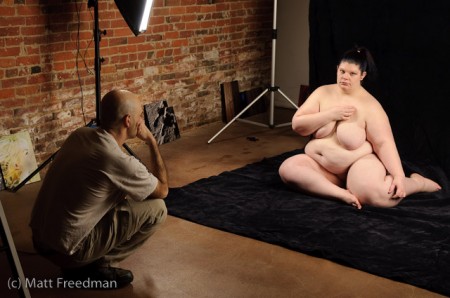 Leave a comment
← Older posts
Newer posts →